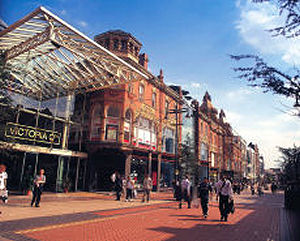 Other Attractions
Why not make the most of your visit to the Yorkshire Championships by visiting some of the other attractions in the locality? Bradford and nearby Leeds are thriving cities and Leeds, in particular, is well known for providing some of the best opportunities for 'retail therapy' in the north of England.
Bradford is home to the National Museum of Photography, Film & Television , one of the most visited museums in the country , famed for its interactive exhibits. The museum also houses a huge IMAX cinema.
In Halifax (7 miles from Bradford) is Eureka the first and foremost hands-on children's museum in the UK and is designed especially for 0 - 11 year olds.
Saltaire (4 miles from Bradford) is a UNSECO world heritage site, built as a model town by its patriarch Titus Salt and dominated by the enormous Salts Mill which now houses one of the world's largest collection of David Hockney works.
Leeds is home to the Royal Armoury Museum which has displays of a large collection of militaria and gives daily exhibitions of horsemanship and falconry.
Haworth, 10 miles to the west of Bradford was the home of the Bronte sisters and is set in the heart of the beautiful Yorkshire Dales.
The famous Worth Valley Steam Railway which was used in the film 'The Railway Children' runs between Haworth and Keighley.